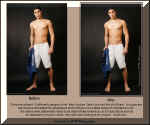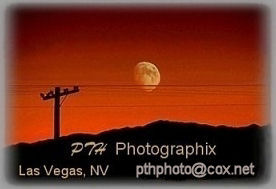 Email the Photographer by clicking on the above picture. You may also click the "Email" Button on any page.
This site was updated on Sunday, May 20, 2007

Welcome to the photography home page of PTH Photographix in Las Vegas, Nevada. Here you will find examples of the different types of photography I have taken over the years. I'm completely self taught using the "trial and error" method.
Thanks to everyone who has viewed this site and given suggestions and praise. The digitals page was recently updated to show more enhancement photos. I will continue to update all the pages as new models become available or when I do more TFP work.
These pages are best viewed using Internet Explorer 5.0 or higher, sorry all you other browser users.
All comments regarding photography and services available are welcome. Thank you and enjoy your visit!
This site is best viewed Using MS I.E. 5.0 or higher.
Mouse click this picture to view a larger version

Please beware that some of the photographs on the "Fine Art" page may contain fine art imagery showing the human form. If you find this type of photography offensive then please avoid those pages. Also, many of the pages on this site are graphic intensive. It is after all, a photography web site. Therefore, some of the pages may load slowly. Be patient because we believe the extra time have made the pages aesthetically pleasing and compliments the photographs.
No images may be copied or used without the express written consent of PTH Photographix. Thank you and enjoy your visit!
Before Proceeding Read Warnings
Visitors
Best Viewed Using MS Explorer 5.0 at 800 x 600 Resolution
All photographs taken and created by PTH Photographix. All web art work, buttons and titles created by PTH Photographix. Photographic images are protected by Digimarc electronic watermarks and are copyrighted to the photographer.